Installation Recommendations for HootBoard Air
IMPORTANT - Unpacking and setting up the Air requires two people.

1. Carefully unpack the Air by setting it on its opening side and pulling the box straight up.
IMPORTANT - Inspect unit immediately for any damage from shipping. Contact your account manager if any damage is discovered.
2. Install the provided VESA bracket onto a wall using the appropriate screws for the wall material (e.g. wooden studs, concrete). If using your own VESA mount, ensure the mount can adequately support the weight of the Air. The Air should be hung at a height to optimize user interactions. Depending on the demographic, the installation height may vary.  All measurements are to the high spots on the corresponding VESA mount on the back of the display.  The  recommended heights are as follows:
Landscape Orientation:

 56 - 62".

Portrait Orientation:

 64" - 70".  
3. If using Ethernet, connect using an ethernet cable. If WiFi will be used, connect the WiFi antenna to the WiFi port. The WiFI connection will be setup after powering on the unit.

4. Connect the Air to a power source. Power on the display by toggling the switch to "I".
5. Power on the computer by pressing the red power button.
6. Once the device is powered on, it will boot into the HootBoard Operating System Setup. Touch Let's begin to get started
7. Internet Check - The system will check if there is a proper internet connection. If the connection is successful, it will automatically proceed to the next step. If connecting via WiFi, select your network and enter the password.
NOTE - Ethernet connection is recommended due to connection reliability.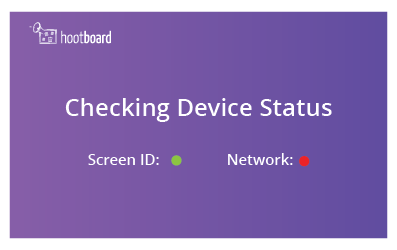 8. Enter your Screen Id - Next you will pair your device to your HootBoard account.  Obtain a screen Id from your board on the web by navigating to your board -> Admin -> Manage Screens page.
9. Success! Your device is now all setup. Happy hooting!
10. To manage your local device settings after setup you can access the HootBoard OS. Connect a USB keyboard to the Glide and press Ctl + Alt + Right arrow to access the menu.  Enter the default password "1234567890"
http://about.hootboard.com/wp-content/uploads/2018/01/GlideInstructions-12.png  

If you have any questions during installation, don't hesitate to reach out to us at support@hootboard.uservoice.com.
Related Articles